As humans, we brush our teeth everyday. Unfortunately, most pet owners do not give the same attention to their furry friends' mouths! Proper dental care is they key to good health for our four legged companions. In order to ensure a healthy mouth, we offer many products to help you.
An important factor to consider when picking a dental product for your pet is the VOHC seal of acceptance.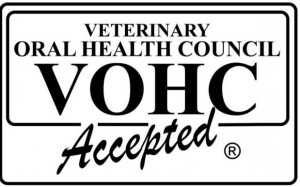 The VOHC is the Veterinary Oral Health Council. If a product receives the approval of the VOHC, then it has met the many standards of the council. For more information on the Veterinary Oral Health Council, please click here.
By combining approved chews, such as Tartar Shield, oral rinses and gels, like the ones from Healthy Mouth, at home check ups to detect odors, and regular exams and dental cleanings from your veterinarian, you can help prevent tartar and plaque buildup and insure your pet's overall wellness.
If you have any questions or concerns regarding your pet's oral or overall health, please contact your veterinarian to schedule an appointment or see what products are right for your friend.